Maria's Fall Candle Picks 2022
Hello everyone!
Since I am obsessed with everything fall and candles I thought I would make a list of my favorite fall scents of 2022. I have a few local favorites from Peridot and Pearl, but since it is local and you can't purchase online I will keep those as honorable mentions. If you are in Pittsburg, Kansas stop by Root coffee house and smell the Harvested Sumac and Campire candle! (side note: the Root coffee house apple butter chai is seriously the best drink I have ever had)
#5: Bath and Body works Spooky Cider Lane
First of all, how cute is this candle? I love the spooky vibe it gives off. Secondly it seriously smells amazing! It has hints of apple cider. The fragrance notes are: bone-chilling bourbon glazed apples, magical maple syrup and voodoo vanilla.*
#4 Bath and Body Works Vanilla Pumpkin Marshmallow 
Ok warning with this one, it will make you very hungry. I have to be careful because it has me craving sweets all day. Not that there is anything wrong with that, but personally wanting something sweet and pumpkiny when you don't have anything on hand can be frustrating! Fragrance notes: Tahitian vanilla, pumpkin spice, homemade marshmallow and drizzled caramel.*
#3 Bath and Body Works Leaves
So this may be the most basic pick (its all basic, its fine). Leaves is my go to candle. I even keep a couple around just for off season because it is so good. If you are looking for a gift for someone this is what I recommend. Fragrance notes: crisp red apple, golden nectar and warm clove spice.*
#2 Bath and Body Works Pumpkin Apple
This is the perfect candle if you want to get in the mood for pumpkin season, but pumpkin scents really aren't your thing. The heavy apple notes really override the pumpkin so it is perfect for apple fans. Fragrance notes: red delicious apple, fall pumpkin, fresh ground cinnamon and clove buds.*
#1 Pumpkin Woods Threshold from Target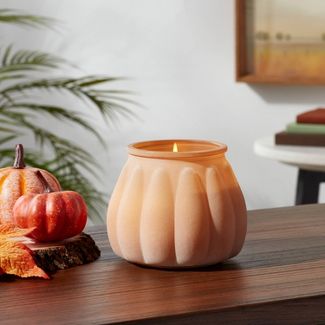 This Candle! It is *chefs kiss* the perfect candle for fall. I found the LAST ONE at my local target and went online to buy another one. It has the perfect woodsy pumpkin scent! If you are lucky enough to grab one do it! The glass jar it is in also is so cute! It has all the perfect fall vibes.
*all photos and fragrance note descriptions are bath and body works and target
---